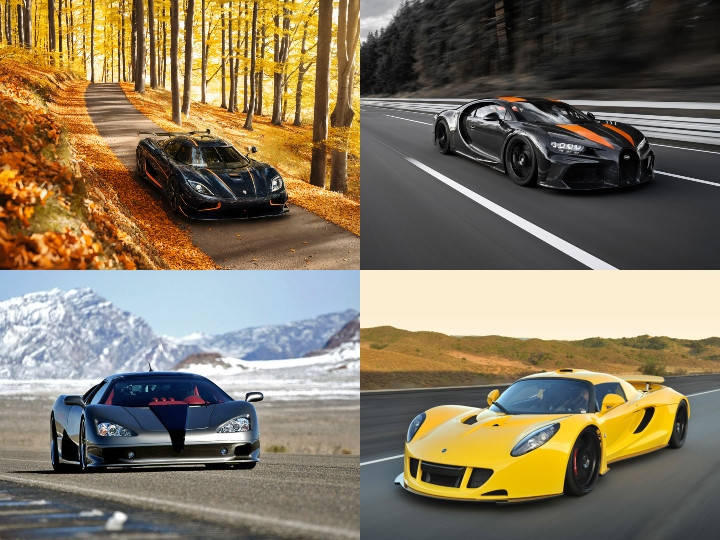 One of the greatest inventions of the 21st century are hypercars that have the capability of reaching unreal top speeds. By that we mean car manufacturers constantly making sure that their customers get the bragging rights of owning the fastest car in the world even if they could never come close to those speeds. 
During the early 2000s, hitting 400kmph used to be a fairly commendable automotive milestone. Today, that number is almost a formality, as various carmakers have demolished this record with more advanced tech. But which one of them stand out ? Here's a look at the 10 fastest production vehicles from the past as well as the present:
10. Koenigsegg CCXR
Top speed: 400kmph

Kicking off the list is the Koenigsegg CCXR, essentially a more aggressive variant of the CCX hypercar, launched in March 2008. While it retained the 4.7-litre twin-supercharged V8 engine from the CCX, it now boasts 1018PS of power and 1060Nm of torque when run on E85 or E100 ethanol fuel. This makes it a whooping 200PS and 240Nm more than the standard CCX  It also features a variety of aerodynamic tweaks including an optional diffuser and a front splitter. All this gave the hypercar a 0-100kmph sprint time of 3.1 seconds and a top speed of over 249mph (400kmph). Out of the 49 CCX units produced, nine of them were the CCXR. 
9. Koenigsegg Gemera- USD 1.7 million
 Top speed: 400kmph

This particular production car, unveiled on March 3, 2020, is one of the most recent additions to the speed demon club with some very interesting tech under the hood. It is a 4-seater GT that produces a whopping 1724PS of power out of a 2.0-litre three-cylinder twin-turbo petrol engine and three electric motors. All this gives a 0-100kmph sprint time of 1.9 seconds and a top speed of 400kmph. It can also run in fuel combinations like ethanol, CO2 neutral methanol and normal fuel. The Gemera is limited to 300 units.
8.McLaren Speedtail- USD 2.2 million
Top speed: 403kmph

Unveiled in October 2018, the spiritual successor to the McLaren F1 has yet to be delivered to a customer and it has already been sold out at 106 units. It is powered by a petrol-electric hybrid powertrain in which the twin-turbocharged 4.0-litre V8 and electric motors develop 1070PS and 1150Nm. The Speedtail also sports some technical wizardry like a carbon-fibre body which can bend in order to boost aero-drag efficiency. All this lent it a top speed of 403kmph on the space shuttle runway at the Johnny Bohmer Proving Grounds.
7. Bugatti Veyron- USD 1.7 million
Top speed: 407kmph 

While the McLaren F1 could be termed as the original hypercar, the Bugatti Veyron essentially kickstarted the pursuit of speed when it was launched in 2005. It was powered by a massive 8.0-litre W-16 engine that generated 1001PS and 1250Nm to take you from 0-100kmph in 2.5 seconds and a top speed of 253mph (407kmph). A feat that made this hypercar a benchmark the world over for a long time. 178 units of the Veyron were produced. 
6. SSC Ultimate Aero- USD 740,000
Top speed: 413kmph

Coming in at No.6 is a special but not very well-known supercar. The SSC Ultimate Aero was the car that finally overthrew the Bugatti Veyron as the fastest production car on September 13, 2007. It is powered by a 6.3-litre twin-turbocharged V8 delivering 1183PS of power to give a 0-100kmph sprint time of 2.7 seconds and further propelled the supercar to a top speed of 257mph (413kmph). Only 24 production units were produced. 
What's special about this supercar was that it was designed without any electronic driver aids to help control that power. While the Ultimate Aero did receive some updates in 2009 and 2013, the 2007-spec model remains the only one to have its top speed record run verified by Guinness World Records. Thus it was a car that was not for the faint hearted. 
5. Bugatti Chiron- USD 2.9 million
Top speed: 420kmph

The wait for Bugatti's successor to the Veyron took a decade, with the Chiron making its debut at the Geneva Motor Show in 2016. It utilised the same massive 8.0-litre W16 engine from the Veyron, but produced a whopping 1,500PS of power. It propelled the hypercar from 0-100kmph in 2.4 seconds and is electronically limited to a top speed of 261mph (420kmph). While Bugatti claims that the Chiron can hit speeds beyond, it had to be limited due to safety reasons and for lack of tyres capable of handling the forces at those speeds. Due to these limitations, the Chiron couldn't even match the Veyron Super Sport. Only 500 units of the Chiron will be produced. 
 4. Bugatti Veyron Super Sport- USD 2.7 million
Top speed: 431kmph

The SSC Ultimate Aero held its top speed record until 2010, when Bugatti snatched back its top spot with the beefier Veyron Super Sport. It was powered by the same 8.0-litre W16 with four turbos as the standard Veyron but it now produced 1,200PS, which is nearly 200PS more than its standard trim. Aside from aero tweaks,  this car was fitted with 10 radiators to prevent overheating at these high speeds. All this power propelled the beast to a top speed of 268mph (431kmph) at Volkswagen's Ehra-Lessien high-speed test track. Production of this high performance trim was limited to 30 units and with rising costs, it ended the lifespan of the Veyron at 450 production units in total.
3. Hennessey Venom GT- USD 1.2 million
Top speed: 435kmph

At No.2 is the Texas-based Hennessey Venom GT that made its debut in 2011. Its design was based off a Lotus Exige and was powered by a 7.0-litre twin-turbo V8 with 1,244PS of power. All this gave a 0-100kmph sprint time of 2.8 seconds. While testing in 2014 at the space shuttle runway at the Kennedy Space Center in Florida, USA, the Venom GT knocked the Bugatti Veyron Super Sport off its top spot with a top speed of 270mph (435kmph). Only 17 units were produced. 
While the Guinness Book of World Records approved it, questions were raised on the legality of this record run. Firstly, most top speed records are taken from an average of two runs in opposite directions (like Koenigsegg did with the Agera RS). Another issue was that the Venom GT is a hand-built, low-production vehicle which left its rivals questioning whether it should be counted among series production cars.
2. Koenigsegg Agera RS- USD 2.6 million 
Top speed: 444.6 kmph

We've finally made it to the creme de la creme of hypercars: the Koenigsegg Agera RS, unveiled at the 2015 Geneva Motor Show in March. Officially, the Koenigsegg Agera RS set a Guinness world record with a top speed of 278mph (444.6 kmph) in November 2017. The hypercar utilised a 5.0-litre twin-turbo V8 with 1,360PS. Only 25 units were produced.

The record run was accomplished by closing a 17.7km section of a public highway between Las Vegas and Pahrump. The Swedish carmaker did two runs in both directions of the section to make it legal. The first run gave the Agera RS a top speed of 458 kmph and on the other way around, it did 436 kmph. What's special about this run is that Koenigsegg used a customer vehicle without any modifications.
1. Bugatti Chiron Super Sport 300+ – USD 5.2 million
Top speed: 490.48kmph

You might be wondering why another Chiron is in this list, but this is no ordinary Chiron. This purpose-built beast that debuted in August 2019 was made in cooperation with Dallara and Michelin with the goal to create a hypercar that can break the 300mph (482.80kmph) barrier. It is 25cm longer than the current Chiron Sport and gets a long-tail aero concept. The Chiron's quad-turbo W16 8.0-litre engine now delivers a whopping 1,578PS of power and has recorded a blistering top speed of 304.77mph (490.48kmph) at the Ehra-Lessien in Germany. Aside from an increase in power, the hypercar gets laser controlled ride height system and weight-saving measures to cut drag. 
Production units for the Chiron Super Sport 300+ have been limited to 30 units. Unfortunately, the carmaker is also electronically limiting the top speed to 273mph (440kmph) for customers. Despite that, it is still the fastest Bugatti you can buy. Post the creation of this beast, Bugatti also announced its withdrawal from chasing top speed records. 

Worthy Mention
Koenigsegg Jesko Absolute
Claimed Top Speed: 482.80kmph+ 

The long drawn out battle between Bugatti and Koenigsegg over top speeds looks set to come to a close soon with the Jesko Absolute. Its twin-turbo 5.0-litre V8 produces a mind-boggling 1600PS of power and 1500Nm of torque. The only reason that this beast hasn't made it to the list is because the company hasn't revealed the top speed. However, the carmaker claims it will be the fastest car it ever built, with speeds over 300mph (482.80kmph). Can it become the first production car to break the 500kmph threshold? Only time will tell.
In the end, the battle between car manufacturers for the fastest production vehicle in the world soldiers on. At this rate of development, could we finally get a hypercar to break through the 500kmph mark? We'll have to wait and see in anticipation of the next speed demon that may arrive from the likes of Bugatti, Koenigsegg, Hennessy or a new player to join the party.