NextEra Energy (NEE) continues to be one of the most forward-looking power companies in the world. The company is highly diversified across traditional and emerging energy industries. NextEra Energy's growing enthusiasm for wind and solar is paying off in an industry that is rapidly changing.
Renewables on the Rise
Renewable energy is starting to transform the energy landscape. Rapid advancements in technology have made renewables like solar and wind increasingly cost-competitive. NextEra Energy is one of the few major power companies taking full advantage of these emerging energy technologies.
NextEra Energy has ~55 GW in operation and ~$122 billion in total assets, making it one of the world's largest energy companies. An increasingly large percentage of the company's assets consist of renewables like solar and wind. In fact, NextEra Energy's subsidiary NextEra Energy Resources is a leading clean energy company in North America.
NextEra Energy Resources has 24 GW of generation in wind, solar, nuclear, and natural gas/oil. NextEra Energy Resources has 19 GW of wind and solar generation alone, making it one of the largest wind and solar companies in the world. Given how fast wind and solar are growing, NextEra Energy has put itself in an incredibly advantageous position moving forward.
NextEra Energy Resources is one of the leading clean energy companies in the world.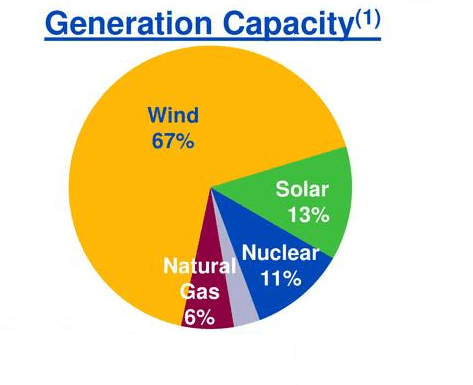 Source: NextEra Energy
NextEra Energy is also investing heavily into battery storage, which will likely be an integral aspect of the overall energy industry moving forward. Battery technology has never been more promising, especially with the rise of electric vehicles. NextEra Energy was one of the first major energy companies to invest in battery storage. The company added nearly 200 MW of storage over the past few months alone.
NextEra Energy's ability to recognize technological trends will continue to differentiate the company in a relatively stagnant industry. With automotive's pushing innovation in battery technology, there has never been a better time to invest in battery storage.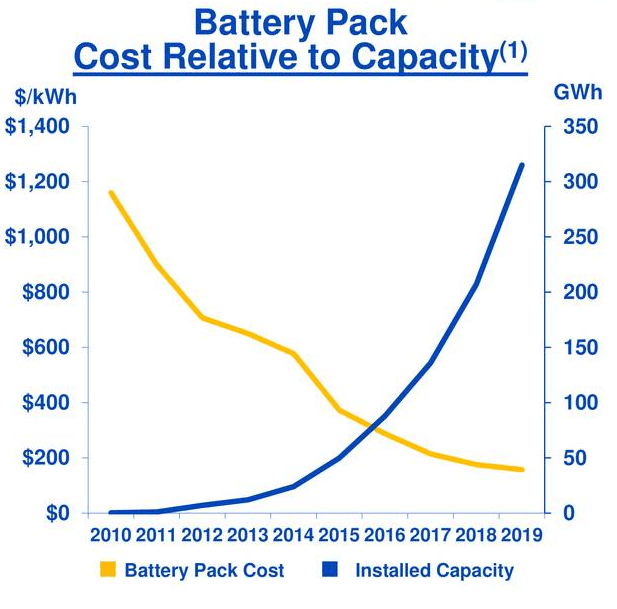 Source: NextEra Energy, Bloomberg New Energy Finance
Challenges Ahead
Although NextEra Energy has performed surprisingly well during the pandemic, the company is still experiencing coronavirus-related disruptions. NextEra Energy will likely have to continue dealing with COVID-19 issues for the foreseeable future. However, the company's relatively diversified portfolio should help shield the company from the worst effects of the pandemic.
NextEra Energy's growing involvement in renewables also comes with its own risks. While technologies like wind, solar, and storage all have huge potential, they are also somewhat unproven over the long-term. Moreover, highly innovative companies like Tesla (TSLA) have started to invest heavily in renewables.
While NextEra Energy may seem incredibly innovative compared to traditional power companies, NextEra Energy likely will not be able to compete with companies like Tesla on the innovation front. Emerging energy industries like solar and battery storage are already starting to attract highly innovative companies.
NextEra Energy will be competing with the likes of Tesla in the renewable energy space.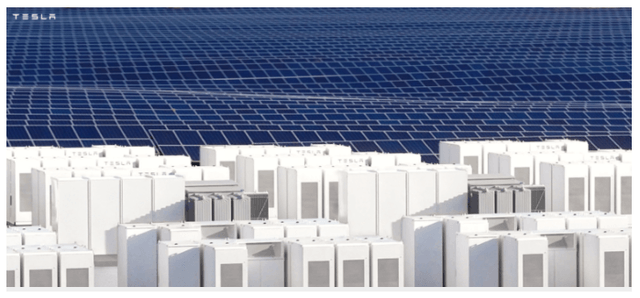 Source: Tesla
Conclusion
NextEra Energy is at the forefront of the energy revolution. Despite NextEra Energy's growing focus on emerging energy technologies, the company is still performing well in its more traditional businesses. The company's Gulf Power subsidiary, which depends heavily on fossil fuel power plants, experienced 1.3% customers growth Y/Y in Q2.
While NextEra Energy is relatively expensive compared to peers at its current market capitalization $136 billion and forward P/E ratio of 30, the company still has more room for upside. NextEra Energy is incredibly well-positioned in both the traditional and emerging energy markets.
Disclosure: I/we have no positions in any stocks mentioned, and no plans to initiate any positions within the next 72 hours. I wrote this article myself, and it expresses my own opinions. I am not receiving compensation for it (other than from Seeking Alpha). I have no business relationship with any company whose stock is mentioned in this article.