There's only one place on Earth where you will find a climatic aerodynamic wind tunnel with enhanced acoustics, combined with leading researchers and top engineers, all under one roof. That place is ACE, at Ontario Tech University in Oshawa, Ontario, Canada.
Since 2011, ACE (or Automotive Centre of Excellence) at Ontario Tech has built a powerful reputation as a world-leading solutions provider in automotive engineering and beyond, thanks to its innovative capacity for force measurement and aerodynamic simulation. ACE's core research facility attracts clients from around the globe who come to the university to put the products of the future to the ultimate proof-of-concept testing.
Long famous for its Climatic Wind Tunnel that can create repeatable, made-to-order weather conditions of every conceivable extreme, ACE has unveiled the newest addition in its collaborative research toolbox: an 80-tonne single-belt Moving Ground Plane (MGP). The seven-metre, sub-floor MGP at ACE is a 'rolling road' that provides an unparalleled experimental physical simulation of a real vehicle travelling at speeds up to 250 km/h.
The unveiling event on May 26 attracted dozens of automotive industry officials and experts, researchers, academics and media. The creation of the MGP was made possible through a $9.5 million investment from FedDev Ontario, with contributions from Magna International, Ontario Tech University and engineering services from Multimatic Inc.
How the Moving Ground Plane works
In wind tunnel testing, it is necessary to reproduce the natural physical forces on a vehicle as exactly as possible. Vehicles sit atop the MGP, locked in place over the moving belt through a complex restraint system, almost like a super-sophisticated air hockey table. Engineers are then able to introduce airflow of variable speeds from the nozzle of the wind tunnel, to detect the subtlest considerations of acoustic and vibration 'hot spots' of the test object.
The data will help engineers tailor new vehicle designs with higher energy efficiency and performance. The MGP will push new frontiers in research into vehicle sensor technology for advanced mobility, autonomous technology and electrification of vehicles.
ACE's tradition of engineering excellence and discovery continues
ACE's core research facility has diversified its scope over its first decade to include architectural, civil, defence/military and human factors, including sports performance, to name just a few areas of research beyond automotive. Prior to ACE's arrival, every single dollar, along with members of the country's talented workforce, was leaving Canada to perform this work.
Already equipped with incredible features like the massive dynamometer in the Climatic Wind Tunnel (CWT), the multi-axis shaker table and the four-post shaker, the addition of the MGP to the CWT, along with airflow and acoustic improvements to the CWT, ACE is one of the premier R&D facilities on the planet.
Quotes
"The future has arrived with the Moving Ground Plane, where ACE is helping take science off the shelf and onto the road. The low-hanging fruit of vehicle shape drag improvements have occurred over the past 80 years through wind tunnel technology. Incremental upgrades going forward require a more realistic underbody and wheels-turning simulation. Our MGP will deliver a force measurement system that is exponentially more accurate. ACE is on the leading edge of electrification and autonomous technology development. Reduced energy requirements translate directly to lower costs, extended battery ranges and lower carbon emissions."
–John Komar, Executive Director, ACE, Ontario Tech University
"ACE is a core research facility at Ontario Tech University shared by many users, including academic researchers, industry partners, government, community organizations, and also senior university students. ACE offers a winning combination of leading research, and opportunities for talent development, with a dedicated engineering team that works together with industry in an exceptional facility to deliver amazing solutions and discoveries. Research at ACE and Ontario Tech continues on an impressive upward trajectory."
–Dr. Les Jacobs, Vice-President, Research and Innovation, Ontario Tech University
ACE staff next to the new Moving Ground Plane inside the Climatic Wind Tunnel.
">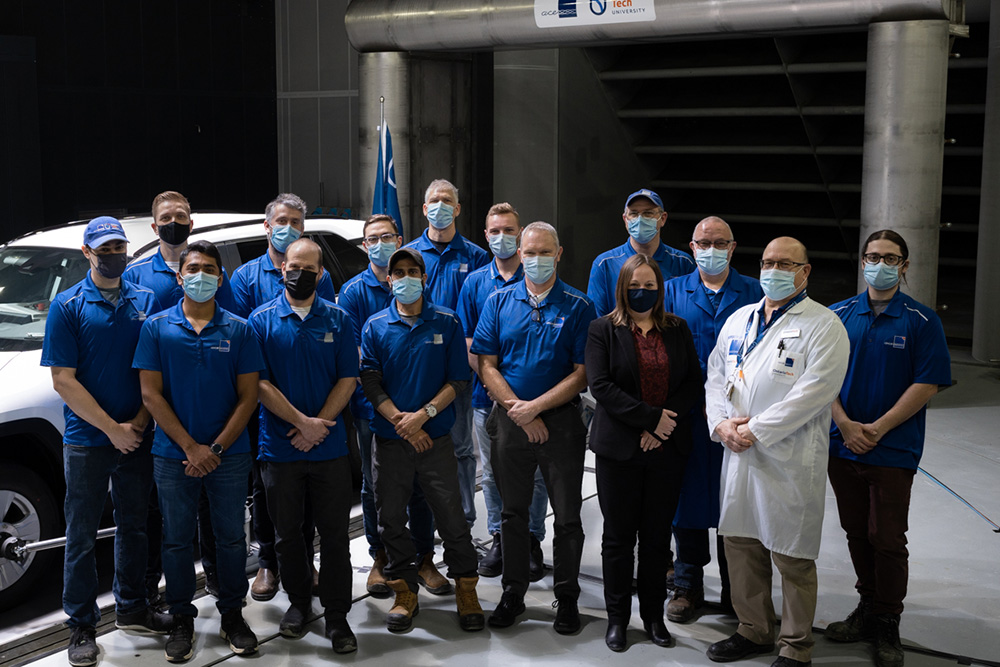 Underneath the Moving Ground Plane: Image of the 80-tonne 'plug and play' mechanics that powers the 'rolling road' with acute precision.
">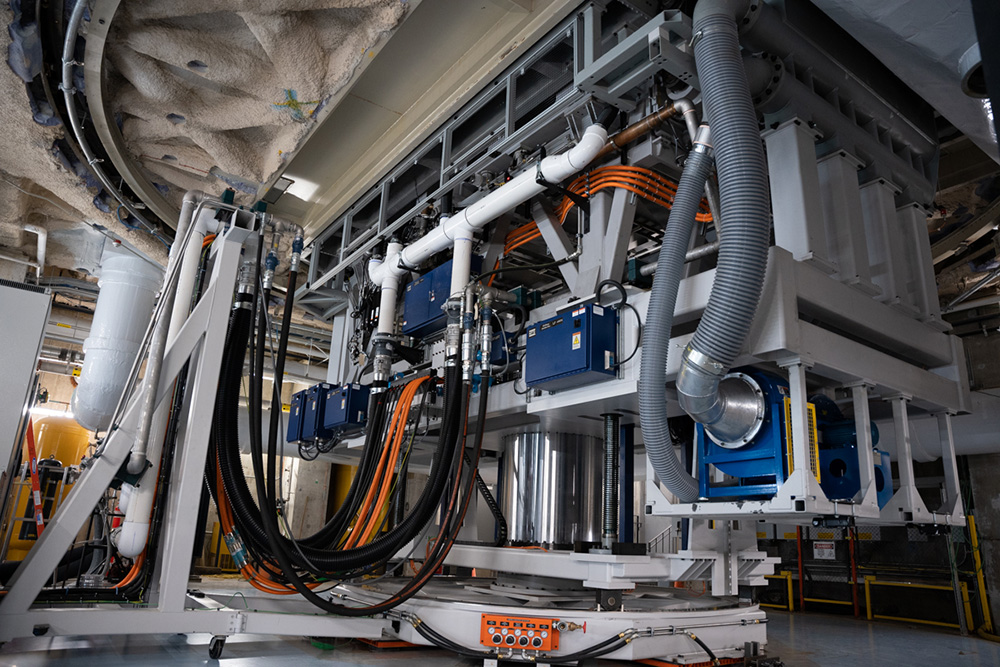 The ACE dynamometer 'parked' underground, away from the Climatic Wind Tunnel while the Moving Ground Plane is in place. The 120-tonne dynamometer is the ACE Climatic Wind Tunnel's other 'plug and play' automotive research tool.
">
Ontario Tech University senior students strike a 'fun' pose in the ACE Climatic Wind Tunnel, adjacent to the new Moving Ground Plane (May 26, 2022).
">