The National Franchised Dealers Association's (NFDA) bi-annual dealer attitude survey attracted its largest ever response as car retailers took the opportunity to rate manufacturers on their COVID-19 response.
The response rate among the 4,304 retailers surveyed by the NFDA during July rose from 39% in the 'Winter 2020' survey to 60% in the latest 'Summer 2020' edition as dealers responded in the wake of the coronavirus lockdown period.
And while the three OEMs ranked top in the overall ratings – Lexus, Kia and Toyota – were recognised for their efforts to support franchised retail businesses the scores attracted by others proved a damning indictment of their response to the crisis. 
Commenting on the traction gained by the Summer 2020 survey, NFDA director, Sue Robinson, said: "It is extremely positive that the latest NFDA Dealer Attitude Survey has received a record response rate of 60.1% showing the value that dealers place on the survey as a crucial tool to monitor the health of their business relationship with manufacturers."
Lexus was scored an average of 9.5-out-of-10 by dealers asked to rate their overall satisfaction with their partner brand, with Kia scoring 9.4 and Toyota 9.0 – against a survey average of 6.0 – as Hyundai, Jeep and Fiat tailed the pack with scores of 2.5, 3.3 and 3.7.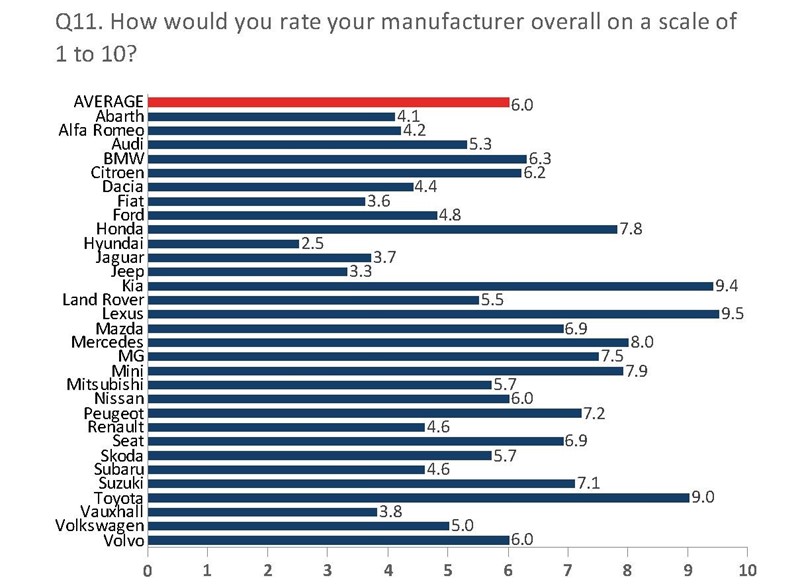 Supportive partners?
While the car retailers that AM has spoken to and surveyed throughout the COVID-19 crisis have widely praised the support offered by OEMs in terms of guaranteed bonus payments, a pause to CI demands and funding assistance, a 6.4-out-of-10 average rating of manufacturer support throughout the COVID-19 suggests that many believed more could have been done.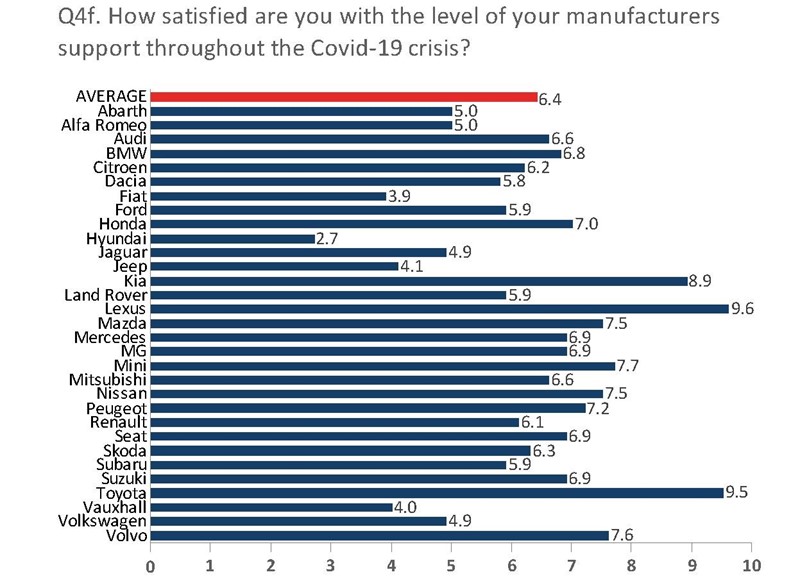 Lexus (9.6) and Toyota (9.5) were given near-perfect scores for their support for retailers as Kia (8.9) stayed 1.2pts ahead of the rest of the pack.
Hyundai were found wanting in the face of adversity, however, with a 2.7 rating from franchisees for its COVID-19 support measures, with Fiat (3.9) and Vauxhall (4.0) also marked down during what was a testing period for some working relationships.
Crucially, Hyundai (2.4) and Jeep (3.7) were marked down for the levels of financial support that were forthcoming as their franchisees battled to balance the books during the three-month lockdown period between March 23 and June 1, with Jaguar (2.3) also slipping to the bottom three.
Unusually, franchisees of Jaguar's sister brand, Land Rover, scored their OEM 5.1-out-of-10.
Robinson said that she found it encouraging that most dealers were "fairly satisfied" with the support received during the pandemic from their manufacturers.
Points for profits
As ever, the fate of the winners and losers in the NFDA Dealer Attitude Survey were once again tied closely to the profitability they each represent.
When asked how satisfied they were with the current profit return from representing their brand, the three top and bottom ranked OEMs from dealers' overall ratings held station.
Lexus was scored 9-out-of-10 for current profitability (survey average: 5.1), while Kia received an 8.6 score and Toyota an 8.3.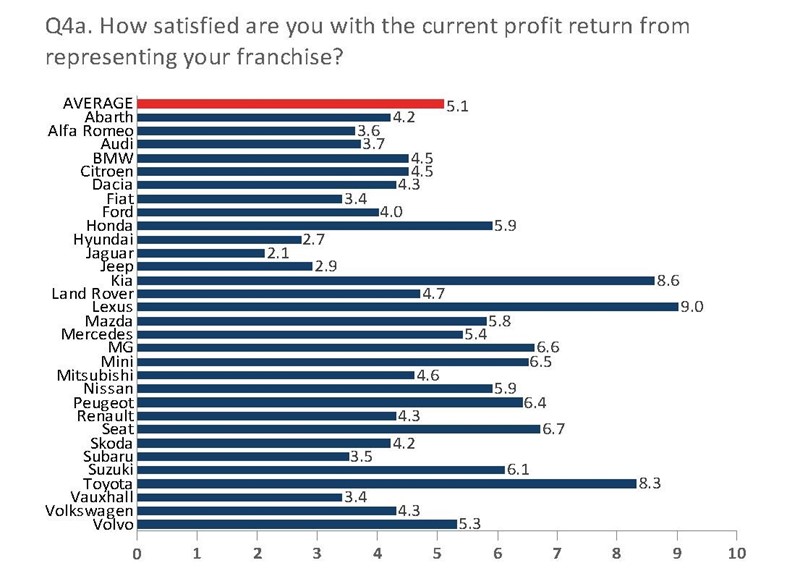 Jaguar foundered at the bottom of the rankings with a current profitability rating of 2.1, however, as Jeep scored 2.9 and Hyundai 2.7.
Franchised car retailers with all six winning and losing brands were hopeful of improved future profitability, meanwhile, despite the ongoing challenges posed by reduced consumer demand resulting from the fallout from COVID-19 and Brexit, muted suggestions of the adoption of an agency remuneration model and the reduced aftersales opportunity of electric vehicles (EV).
Lexus (9.2), Kia (8.9) and Toyota (8.6) all see further potential for improved future profitability, while Jaguar (2.2), Hyundai (3.0) and Jeep (3.2) appear to be keeping their fingers crossed for marginal gains.
Robinson said: "Looking at the future of the market, it is encouraging to see that most dealers are satisfied with their alternative fuel vehicle offering and that average satisfaction levels in this area continue to rise. 
"As our industry's stability is threatened by a number of external challenges, it is vital that manufacturers and dealers continue to closely work together for the benefit of the whole automotive sector."