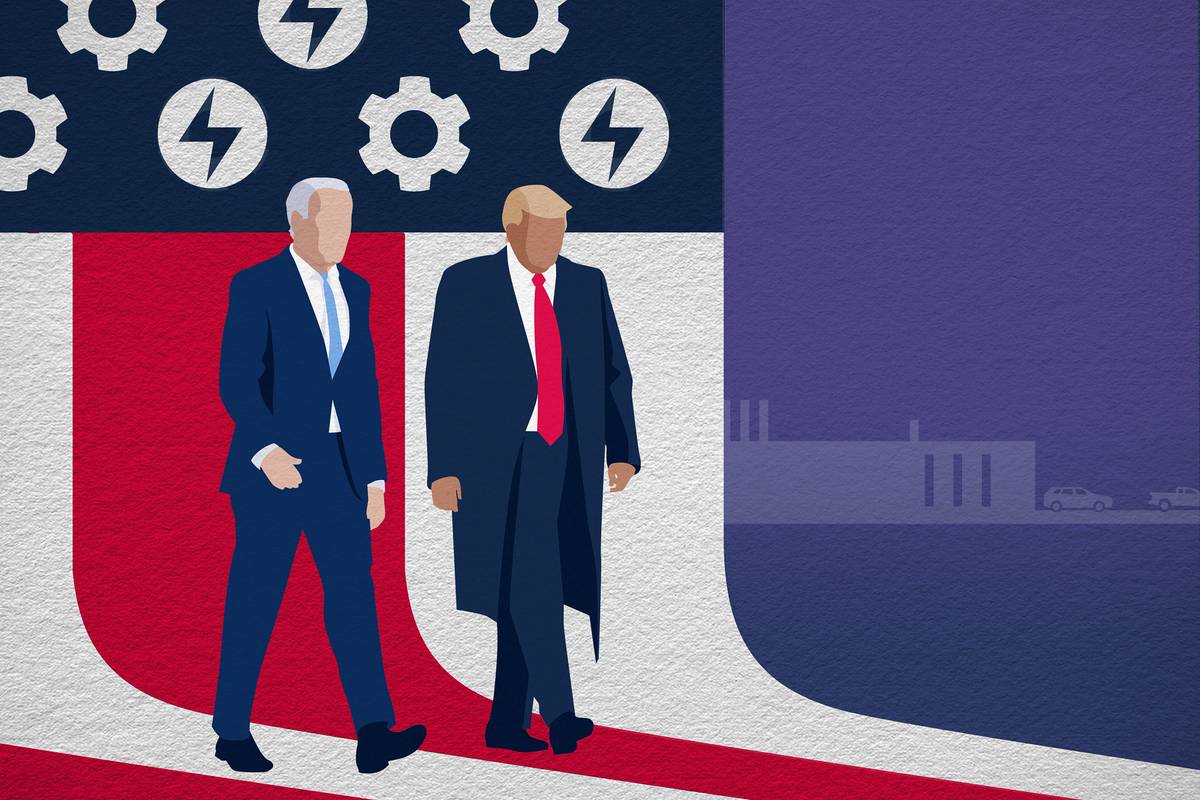 Attempting to predict how either presidential candidate might influence the automotive market is inherently difficult because there's no telling how much support even the most sincere campaign pledge will receive from an eventual winner's own party, much less the opposition. Then there's the fact that the congressional balance of power itself is subject to change come election day. But this time around, the clear differences between President Trump and his challenger, former Vice President Joe Biden, make potential outcomes (once the winner is known) easier to predict. Perhaps the area of greatest difference and the potential for swiftest change involves the two candidates' environmental stances — and, particularly, electric cars.
Related: The Cars.com 2020 American-Made Index: Which Cars Are Most American?
To understand where changes are likely to occur — especially ones that could affect shoppers in the instance of a Biden win — you have to add another factor to the uncertainties mentioned above: the automotive world's unique timeframe. Vehicles take years to develop, and they roll off assembly lines for several years before they're overhauled or replaced. According to the latest estimate from the Center for Automotive Research, vehicle platforms in the most recent decade lasted 6.7 years on average. Contrast this with the length of a U.S. presidential term, at just four years, and it's harder to accept any claim that a president, incumbent or potential, has changed or could soon change where automakers conduct final assembly. Once production begins in a particular plant, country or hemisphere, relocating that platform is almost certainly more expensive than whatever tariffs, penalties or trade restrictions the manufacturer might encounter.
So when President Trump said at a rally outside Saginaw, Mich., in early September, "I got you so many damn car plants," it was characteristic hyperbole, or at best premature. So far, the Administration's Section 301 tariffs have prompted changes, but they haven't included the relocation of final assembly — at least not to the U.S. For example, among the models assembled in China for sale in the U.S. and subject to the tariffs are the Buick Envision and Volvo XC60. The Envision, redesigned for 2021, will still hail from an assembly plant in Yantai, China. Renee Ketels, a spokesperson for GM, told Cars.com on June 1 that tariffs on the SUV are "still applicable" but "we don't anticipate a change in pricing strategy." In other words, GM is eating the cost and selling the model here anyway.
Meanwhile, Reuters reported in 2018 that Volvo would shift production of U.S.-bound XC60s from China to a plant in Europe (where the XC60 was already being built for other markets) to avoid tariffs. Chinese automaker Zhejiang Geely has owned Volvo since 2010, and the automaker still imports one model from China: the S90 sedan.
"The S90 is the only Volvo car coming to the U.S. from China, and, yes, we do pay a tariff on each one," Russell Datz, a spokesperson for Volvo, told Cars.com on Sept. 18. "Our global manufacturing strategy and quick decision-making has allowed us to manage the situation very well by shifting production accordingly."
Other cars, like the next-generation Ford Focus and erstwhile plug-in-hybrid variant of the Cadillac CT6, were imported — or planned for importation — from China. Cadillac canceled the plug-in CT6 in 2018,  claiming no connection to the tariffs at the time. The same year, Ford canceled plans to import the China-built Focus. With both nameplates canceled for the U.S. market, neither car moved to stateside assembly plants.
We won't know for years whether President Trump's brand of tariffs and threats will change where automakers build their vehicles. (The same can be said of the U.S.-Mexico-Canada Agreement that replaced NAFTA in July, which was instigated by Trump but is widely viewed as a bipartisan effort in its final form.) If it does happen, the most likely timing is when a platform is due for an update and the manufacturer has to reinvest and can consider where to make that investment. By that time, the administration, or merely the policy, might have changed.
Both Trump and Biden might skate by on a technicality should American parts manufacturing jobs proliferate in short order. Their timeframes aren't all as necessarily long as vehicle architectures, and they are less expensive and complex in manufacturing terms than the finished product.
Biden has accounted for such lower-tier manufacturing among his extensive proposals, published on his campaign site: "Create 1 million new jobs in the American auto industry, domestic auto supply chains, and auto infrastructure." The platform also proposes to "Establish a 'claw-back' provision to force a company to return public investments and tax benefits when they close down jobs here and send them overseas."
Though the Trump campaign site offers little detail, the president said at an August Pennsylvania rally: "We will give tax credits to companies to bring jobs back to America, and if they don't do it, we will put tariffs on those companies, and they will have to pay us a lot of money."
Environmental Stance: The Great Divide
The area of the automotive market most subject to change if Biden wins, or to continue its current trajectory if Trump remains in office, is electric cars and the public infrastructure intended to support them. This isn't the only difference, certainly, but it might be the most pronounced — and one that consumers could see sooner than any other change should Biden prevail in November.
For Americans who view Biden as middle-of-the-road on environmental issues, there are two things to bear in mind, starting with the alternative: The Trump Administration represents some of the most significant rollbacks of environmental programs and regulations since President Nixon founded the Environmental Protection Agency in 1970. Trump has unabashedly exited international climate treaties, reversed Obama-era policies and personally, according to reports, blocked attempts to extend federal electric vehicle tax credits in March once they had expired for Tesla and were all but gone for GM. (Consistently low gas prices and tepid government support are two primary reasons we predicted in December that electric cars would struggle to become mainstream in the U.S. by 2030.)
White House economic adviser Larry Kudlow vowed at the time to continue this effort, as reported by Reuters: "As a matter of our policy, we want to end all of those subsidies," Kudlow said. "And by the way, other subsidies that were imposed during the Obama administration, we are ending, whether it's for renewables and so forth."
Even if Biden were middle-of-the-road, Trump's policies are — from a historical perspective — so far to the right of the road, they're on the sidewalk. But if the challenger's published platform is an indication, today's Biden is far more environmentally exercised than merely middle-of-the-road.
Though Biden was challenged on his fundraising practices during the primaries, his Plan for Climate Change page states that "Vice President Biden has committed that Biden for President will not accept contributions from oil, gas and coal corporations or executives," and demands a worldwide ban on fossil fuel subsidies. The pledges alone are significant and stand in stark contrast to the Trump campaign. Deeming climate change a "core national security policy," he is targeting a 100% clean energy economy and net-zero emissions no later than 2050. Proposed policies to achieve these ends include many related to the automotive world, and specifically EVs, ranging from the cars themselves to the power used to fuel them. Excerpts from across the Biden platform include:
Consumer incentives:

"Biden will restore the full electric vehicle tax credit to incentivize the purchase of these vehicles. He will ensure the tax credit is designed to targeted [sic] middle class consumers and, to the greatest extent possible, to prioritize the purchase of vehicles made in America." Citing the

Clean Cars for America

proposal drafted by Senate Minority Leader Chuck Schumer and several Democratic colleagues, Biden campaign materials state that "Biden will build on their leadership by providing consumers rebates to swap old, less efficient vehicles for these newer American vehicles built from materials and parts sourced in the United States," a latter-day

Cash for Clunkers

program.

Buying directly:

"Biden will make a major federal commitment to purchase clean vehicles for federal, state, tribal, postal, and local fleets." Elsewhere, the campaign commits to "purchasing tens of billions of dollars of clean vehicles and products to support the expansion of clean energy generation capacity, ensuring we are on the forefront of the clean energy export markets of the future."

Charging infrastructure:

"As president, Biden will work with our nation's governors and mayors to support the deployment of more than 500,000 new public charging outlets by the end of 2030." There are 88,310 at 27,155 public stations as of this writing, according to the

Department of Energy

.

Cleaner energy:

"Biden will also transform the energy sources that power the transportation sector, making it easier for mobility to be powered by electricity and clean fuels, including commuter trains, school and transit buses, ferries and passenger vehicles."

Manufacturing incentives:

"Dedicated grants and funding to help manufacturers retool and build new factories will help ensure U.S. global leadership in electric vehicle manufacturing, including EV components and batteries. Biden will announce additional detail on his plan to support auto jobs in the weeks ahead."
Electric Cars at a Crossroads
Vice President Biden's site states that "he will work to develop a new fuel economy standard that goes beyond what the Obama-Biden Administration put in place." That standard, later rolled back under the Trump Administration, mandated a Corporate Average Fuel Economy standard of 46.7 mpg for cars and light trucks by the 2025 model year, amounting to 5% annual increases rather than the current 1.5%, resulting in 40.4 mpg by 2025.
However necessary the reversion to a more aggressive target may be, it doesn't change the fact that the numbers are about 30% higher than what appears on vehicle window stickers (old, unrealistic calculations are behind it), the near certainty that any progress will stall in the courts for years as automakers variably support and then push back on the change, and as states fight for their perceived right to set their own rules, be they more or less ambitious. Even without these complications, CAFE changes take time to show results — years for consumers.
For electric cars, however, the change could come faster. Biden's declaration of climate change as a "core national security policy" lays the groundwork for him to take unilateral action even without majority congressional support, if he's learned anything from the current president about pushing boundaries. (Witness President Trump's use of Section 232 of the 1962 Trade Expansion Act to threaten action against the "national security threat" of imported cars.)
More From Cars.com:
Of the promises above, we view consumer incentives as the most important. Public charging is a necessary evil — necessary to make uninitiated consumers comfortable enough to buy an EV in the first place, evil when they sit empty as a political albatross once EV buyers recognize they do 99% of their charging at home. This is the risk when legislators get involved in business. When done right, it can improve greatly over a hands-off approach. But there are already many examples of well-intentioned interventions gone wrong in this automotive subset. Federal tax credits of $7,500 granted to buyers of $100,000 EVs offended allies as well as opponents. Lawmakers should have seen it coming. They also should see that what we call a "compliance vehicle" — a plug-in that checks just enough boxes to meet a state mandate — can be unappealing enough to consumers that they're turned off to the electric movement indefinitely. Is that good for the cause?
Today's EVs are good and accomplish much of what we want from zero-emissions vehicles, leaving the other challenges, such as pollution and carbon levels, to the energy-generation sector, which Biden has also committed to reforming. But EVs have inherent ownership limitations versus petroleum-powered options in a country with consistently cheap fuel. Given these limitations, EVs arguably would need to be less expensive to compete; currently, they're more expensive. As they exist today, they'll never make a meaningful dent in the market or the environmental goals without subsidy.
Government support is a necessity, and we predict it will be the clearest and most rapid difference in the automotive market if Joe Biden takes office. If he doesn't, EVs could once again falter or even retreat as they did when George W. Bush took office and resources moved to distractions like fuel cells and flex-fuel vehicles.
Related Video:
Cars.com's Editorial department is your source for automotive news and reviews. In line with Cars.com's long-standing ethics policy, editors and reviewers don't accept gifts or free trips from automakers. The Editorial department is independent of Cars.com's advertising, sales and sponsored content departments.
Share