Cox Automotive runs through the state of the U.S. auto industry with Q3 in the books.
The research firm notes Q3 sales volume in total was only down 10% compared to year ago levels, which in normal times might be considered like falling off a cliff, but was a surprise to the upside after the 34% drop in Q2. Two of the biggest brand gainers in Q3 on a percentage basis were Alfa Romeo and Chrysler.
Cox also looks at pricing trends.
"As new-car inventory issues continue to put pressure on the supply side of the equation, average transaction prices continued to climb. In September, the ATP hit $38,973, the 3rd highest monthly ATP in history according to Kelley Blue Book. The ATP was higher in April and June of this year, when volume was low and full-size pickups dominated. If current trends continue, we're fast approaching the day when the average new car in the U.S. will cost more than $40,000."
As for EVs, Tesla is given due credit, but there is a reminder that Bolt sales were up 17.6% in the quarter and are up 7.2% YTD.
Here is Cox's chart on the quarter.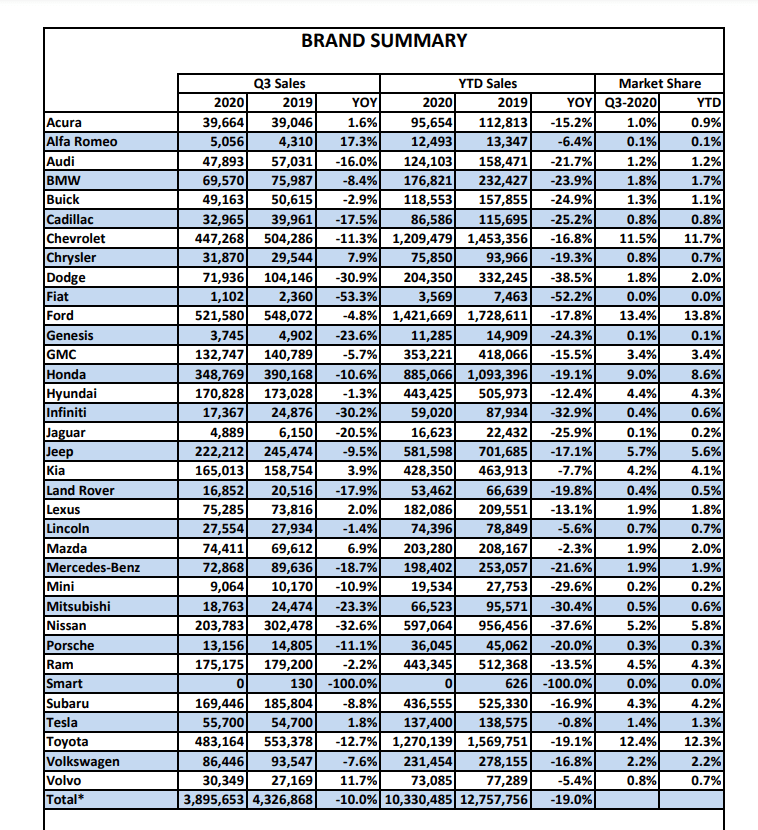 Auto stocks: Toyota (NYSE:TM), Tesla (NASDAQ:TSLA), General Motors (NYSE:GM), Honda (NYSE:HMC), Ferrari (NYSE:RACE), Ford (NYSE:F), Hyundai (OTCPK:HYMLF), Fiat Chrysler Automobiles (NYSE:FCAU), Nissan (OTCPK:NSANY), Daimler (OTCPK:DDAIF), Volkswagen (OTCPK:VWAGY), Subaru (OTCPK:FUJHY).