This article first appeared on Trend Investing on August 10, 2020; therefore all data is as of this date.
After the past 1-2 years trade war-COVID-19 induced lull in electric vehicle [EV] sales, suddenly mid 2020 is seeing some big moves in 'EV World'. A flood of new IPOs, surging EV sales in Europe (up 278% in July YoY), and of course Tesla's (TSLA) stock price up 7x in the past 15 months.
Looking ahead I think the highly anticipated Tesla Battery Day (Sept. 22, 2020) may be another major inflection point in EV history. I say this because it is expected that Tesla will announce their new Maxwell dry electrode technology has reduced battery costs to the point where Tesla making their own cells will VERY soon hit the magic US$100/kWh battery pack mark. They will also discuss their 'million mile battery'. Both of these can be 'game changers' for the EV industry, and game over for Internal Combustion Engines [ICE]. It can mean new electric cars will become purchase price competitive with ICE cars maybe earlier than previously thought (2022/23), and as soon as late 2021/early 2022 once Tesla starts producing cars with the new battery packs. Also in 2021 we should hear of a new Tesla Model C 'Compact' car that will be the first truly affordable mass market electric car. We will soon see!
If I am right and this is what happens on Tesla Battery day then watch out for a new 'mass market realization' that EVs have arrived. A surge of EV activity will follow as all other car makers panic to catch up with Tesla, as they finally realize the era of ICE vehicles is over.
Given all of the above, today I decided to take a further look at all the new EV companies to see who has potential to be the next Tesla.
Newly listed EV companies
Arcimoto Inc. (FUV) – Price = USD 6.67
Arcimoto is an electric vehicle company headquartered in Eugene, Oregon that manufactures and sells the 'Fun Utility Vehicle', or FUV, a tandem two-seat, three-wheeled electric vehicle. Arcimoto's vehicles are affordable, ultra efficient, small-footprint electric vehicles.
Apart from the fun electric tricycle market Arcimoto is targeting the deliveries and fleet sectors with their "deliverator' and 'rapid responder' tricycle.
Arcimoto's mission statement is:
Our mission is to catalyze the shift to a sustainable transportation system. We believe that will only happen when we move away from oversized, overpriced, polluting vehicles to right-sized, ultra-efficient EVs we all can afford. We can't afford not to.
Arcimoto listed on the Nasdaq in September 2017 and built out a state-of-the-art production facility in Eugene, Oregon. The Company has completed regulatory compliance for the Fun Utility Vehicle and initiated production in September 2019. Pilot programs are underway with the Deliverator and the Rapid Responder, with production of those vehicles set to begin in late 2020.
Arcimoto is currently undergoing a study by Munro & Associates to see how they can better boost efficient high production volume.
On June 11, 2020 Arcimoto announced their Q1,2020 results stating:
To date, the Company has built more than 100 production vehicles, up from the 57 produced at December 31, 2019. The Company incurred a net loss of $3,594,774, or ($0.15) per share, in the first quarter of 2020 versus a net loss of $3,068,393 or ($0.20) per share, for the same prior-year period.
Arcimoto recently successfully sold 1 .37m shares at $7.30/share, above the market offering price, for gross proceeds of ~$10m. Net proceeds will be used for general corporate purposes, acceleration of finished goods manufacture for delivery against pre-orders and to meet the increased customer demand in its products.
The current market cap is US$163m and the stock is up 122% over the past year. The Company is debt free except for $1.6m equipment capital lease financing. Total revenue in the first quarter of 2020 was $616,795 as compared to revenue of $2,645 for the same period in 2019. 4-traders has an analyst's 'buy' and a price target of US$5.70, representing 14% downside.
The low market cap reflects the low number of sales to date and lack of profitability at this stage. I like the stock and their mission, and view it as a 'fun' speculative buy.
Arcimoto's 3 wheel EV – The 'Fun Utility Vehicle'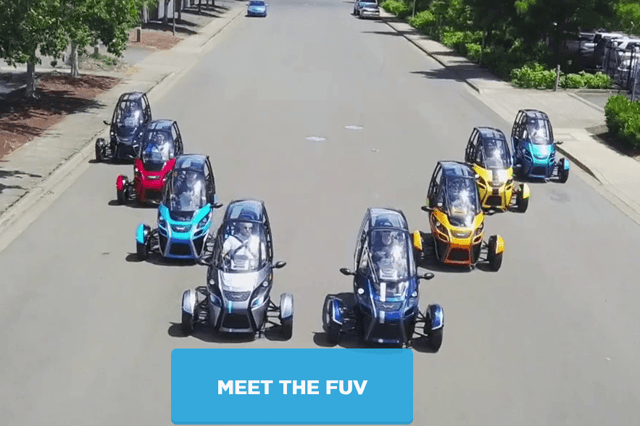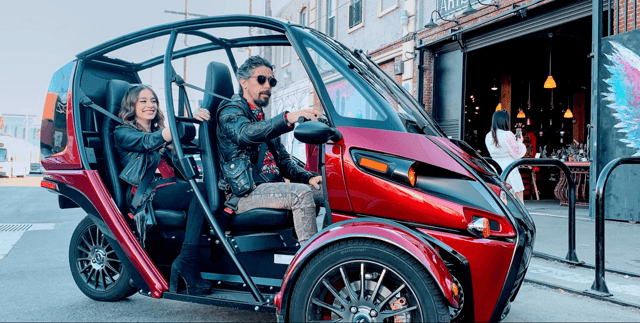 Source: www.arcimoto.com
AYRO Inc. (AYRO) – Price = USD 4.17
AYRO is based in Texas, USA and designs and manufactures compact, 'purpose-built', low speed automotive-grade electric vehicles ideally for urban and short-haul markets. AYRO's EVs are used as part of a fleet on university and corporate campuses, for commercial and urban delivery, and many other applications.
A key partnership they have is with Club Car, who is involved in golf carts & supplying utility vehicles to universities. The strategy is to offer lower costs for utility short haul deliver vehicles.
In July 2020 AYRO received $584,000 in orders for its inaugural purpose-built 'EV hospitality truck' solution.
In July 2020, the Company raised approximately $15m at US$4.75 per share.
The current market cap is US$163m. MarketWatch shows an analyst rating of 'hold'. The price target (295,680) appears wrong.
The can watch a video here.
A sample of AYRO's EVs

AYRO's production facility was recently expanded by 200% to meet demand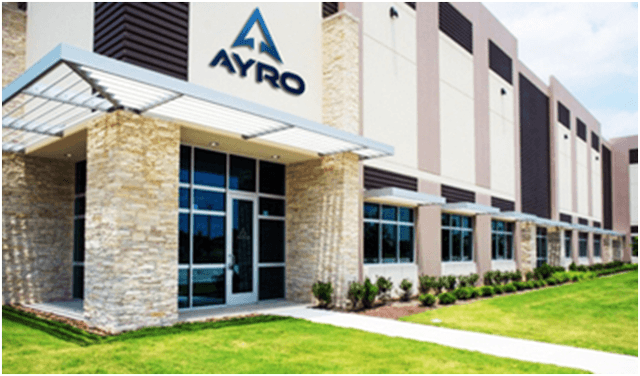 Source: www.ayro.com
Fisker Inc. (merger with Sparton Acquisition Corp.) (SPAQ) – Price = USD 12.36
Investors can buy Sparton Acquisition Corp. (SPAQ) now and become Fisker Inc. shareholders after the transaction completes in H2 2020; when I expect the company name will change to Fisker Inc. The transaction is to provide more than $1 billion of gross proceeds to SPAQ, and the proceeds to fully fund the development of the all-electric Fisker Ocean through start of production in 2022.
Fisker Inc. is a California USA based pure EV company with plans to be the world's first digital car company, sitting in the "premium affordable" category. Their first car, the Fisker Ocean, was the most awarded new automobile of CES 2020, and is planned to be produced by late 2022.
On July 30, 2020 Fisker announced:
Reservations For Fisker Ocean SUV Now At 7,062……Production of Fisker Ocean SUV expected to begin during Q4 2022, production fully sold out for that year based on reservations.
After the Fisker Ocean SUV in late 2022 will be the Fisker Emotion sedan planned for ~2023. At this stage Fisker Inc. is planning to release 8 BEV's including affordable luxury SUV's, sedans, crossovers, and pickups; as well as other luxury and performance vehicles.
By outsourcing manufacturing and servicing, Fisker Inc. aims to reduce initial CapEx, production risks, and focus on car design, marketing and selling. Future Fisker-led manufacturing facilities also are a possibility once the Company is more advanced. Fisker plans to follow the Tesla model of selling via online sales and select sales outlets, thereby saving margin by not using dealerships.
The pro forma equity value of the initial merger was approximately $2.9 billion (based on the 290m shares outstanding at the $10.00 per share listing price of SPAQ) and Fisker Inc. existing shareholders retaining about 60% pro-forma equity in the new merged company. This means investors can buy into Fisker Inc. now (assuming the merger completes) at a valuation in the US$3-4b range (including some miner dilution from warrants), given SPAQ is now at USD12.36. That looks to be good value should Fisker succeed in their goals, given Teals currently has a market cap of USD 270b and new EV maker NIO Inc. (NIO) market cap is USD 16b. Time will tell.
The main risks for now is that Fisker plans to completely outsource car manufacturing to Volkswagen and this is yet to be finalized with a decision expected soon.
On the positive side the US$1b in cash from the SPAQ merger should fund Fisker to first production, assuming they can successfully outsource the manufacturing.
I rate Fisker/SPAQ as a speculative buy.
The Fisker Ocean – ~US37,499 (~US$30K after subsidies), production aims to begin by Q4, 2022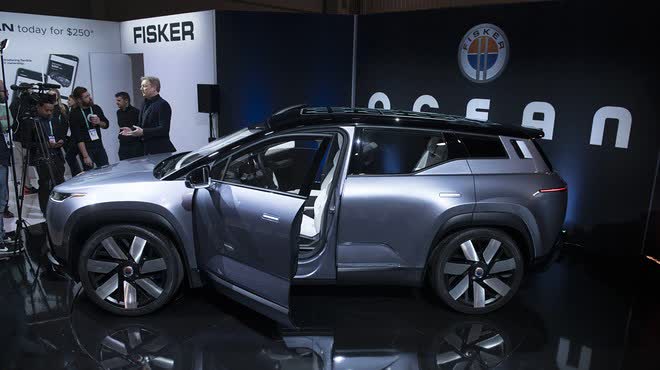 Source: Fisker
For a more detailed look at Fisker/SPAQ you can read my linked article below.
Hyliion Holdings (HYLN)/ Tortoise Acquisition Corp. (SHLL) – Price = USD 19.37
In June 2020 it was announced that Hyliion will merge with Tortoise Acquisition (SHLL) and will be named Hyliion Holdings and remain on the NYSE under the new ticker symbol "HYLN" once the merger completes in Q3, 2020. The pro-forma implied market capitalization of the combined company at the time was US$1.5B, based on SHLL at US$10.00 per share, which will include ~US$560m of cash proceeds. Proceeds will be used to fully fund the commercialization and mass production of the company's electrified powertrain solutions.
Hyliion stands for 'hybrid lithium ion". Hyliion, based in Texas USA, is focused on electric trucks, in particular class 8 commercial vehicles (E.g.: Semis).
Combined with a fully electric drivetrain and a natural gas-powered onboard generator to recharge the battery, the Hypertruck ERX will provide more than 1,000 miles of range. On June 25 it was announced that Hyliion had secured a "1,000-truck pre-order with global logistics leader Agility".
Hyliion's Hypertruck is a long-haul, fully electric powertrain with a gas Electric Range Extender [ERX]

Source
You can read more here:
Li Auto (LI) – Price = USD 16.89
Li Auto Inc., also known as Li Xiang, is a 5 year old Chinese electric vehicle manufacturer headquartered in Beijing, with manufacturing facilities in Changzhou, China. In late July 2020, the Company IPO'ed with 95 million American depository shares (ADS] priced at $11.50 per share, raising US$1.1b. Li Auto is backed by the Chinese food delivery giant Meituan Dianping (OTC:MPNGF) and TikTok owner ByteDance.
Li Auto's sport-utility vehicle model Li ONE allows drivers to charge their cars with electricity or gasoline, a technology called extended range electric vehicle (EREV). Li Auto plans to launch a highly competitive product in 2022 with pricing aimed at capturing share in the fast-growing large SUV market. Li Auto sold 9,666 vehicles in the first six months this year.
The current market cap is US$14.1b. 4-traders has an analyst's 'buy' and a price target of US$21.00, representing 24% upside.
Lordstown Motors (RIDE)/ DiamondPeak (DPHC) – Price = USD 12.25
LordsTown Motors is another SPAC formed by merging with DiamondPeak Holdings Corp. and is expected to close in Q4, 2020. The SPAC transaction included a $500m fully committed private investment in public equity, which includes $75m of investments by General Motors. The deal implies a $1.6b pro-forma value for Lordstown based on DPHC listing price of US$10.00 per share. US$675m of the proceeds will be used for production of the Endurance model.
Lordstown Motors Corp. is based in Ohio, USA. The Company builds electric pickup trucks and other vehicles to revolutionize the way work gets done.
The Lordstown Endurance aims to be the first full-size electric pickup truck designed to serve the U.S. commercial fleet market with initial production expected in the second half of 2021. Lordstown Motors unveiled the electric Endurance pickup in June and has received 27K orders from mainly commercial fleet customers.
The company's goal is to "build the first ever electric pickup truck in the USA and likely the world." You can watch a video about the Company here.
I like the stock valuation but there will soon be plenty of competition in the US pickup space including from Tesla (TSLA) and several others, so competition risk is the main concern.
The Lordstown Motors Corp. 'Endurance' electric pickup truck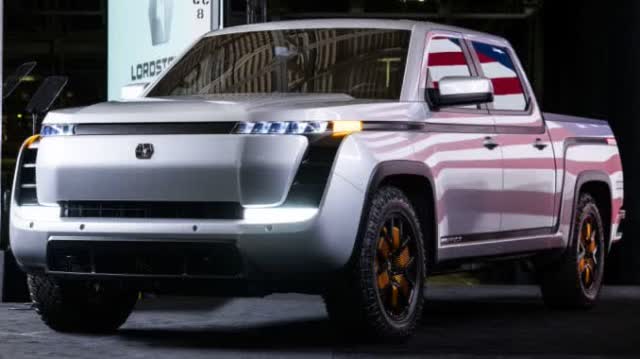 Source
Lordstown's production facilities in Lordstown Ohio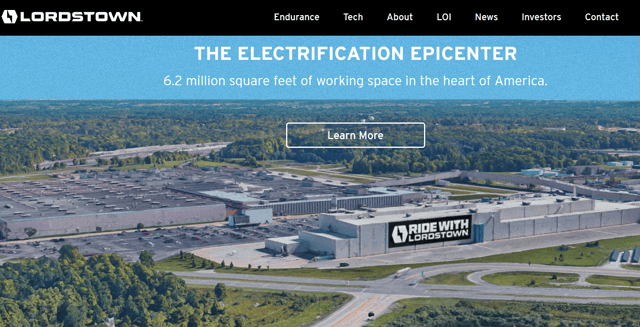 Source: Lordstown Motors Corp. | Electric Work Vehicles | Lordstown, OH, USA
Soon or possible to list EV companies
Xpeng Inc. (IPO soon) (XPEV)
Xpeng is headquartered in Guangzhou, China. The Company designs, develops, manufactures and markets smart EVs that are seamlessly integrated with advanced Internet, AI and autonomous driving technologies. The Company was backed early on by Alibaba (BABA).
On August 8 Bloomberg reported:
Chinese electric-vehicle maker XPeng files for U.S. IPO. Guangzhou-based XPeng recently raised an additional $300 million from investors including Alibaba Group Holding Ltd. and the Qatar Investment Authority, expanding its pre-IPO round to $800 million. XPeng delivered 5,185 units of its first vehicle, the G3 SUV, in the first half of 2020. It started deliveries of its second model, the P7 sedan, in May, shipping 1,966 units by July 31.
The Xpeng G3 smart SUV BEV with 520km NEDC driving range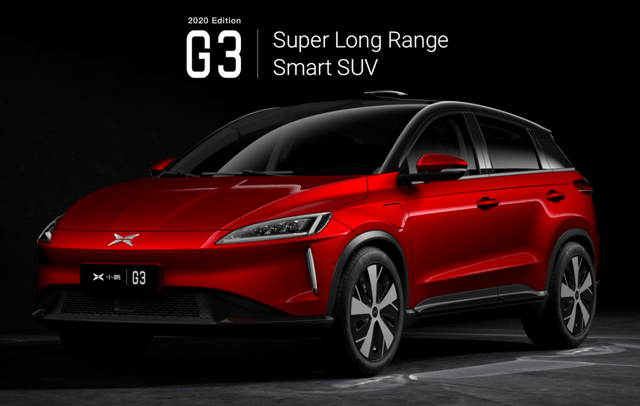 Source: Xpeng Motors(G3、P7)_Intelligent electric car with Internet DNA
Lucid Motors (formerly Atieva) (private) (IPO unknown)
Lucid Motors, Inc. (formerly known as Atieva) is an American automotive company specializing in electric cars. The company is based in Newark, California. Lucid has received over US$1b in backing from the Public Investment Fund of Saudi Arabia. The funding is intended to fund the final engineering and testing of the Lucid Air model, the first-phase construction of its manufacturing plant in Casa Grande, Arizona, the commercial production of the Lucid Air, and its worldwide retail strategy beginning in North America. Construction began in late 2019, and production in scheduled to begin in early 2021.
The Company's focus is on high performance luxury EVs. It is not yet known if they will list in the USA but an IPO is a consideration.
The luxurious Lucid Air due early 2021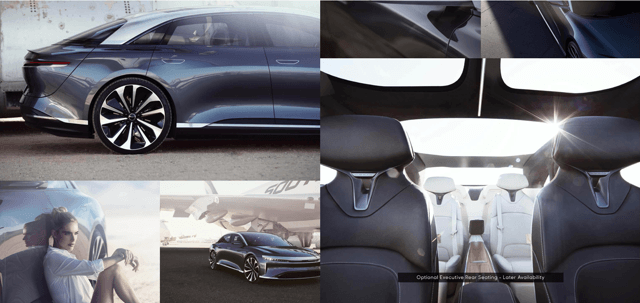 Sourc: https://lucidmotors.com/
The Lucid Motors EV production facility in Arizona, USA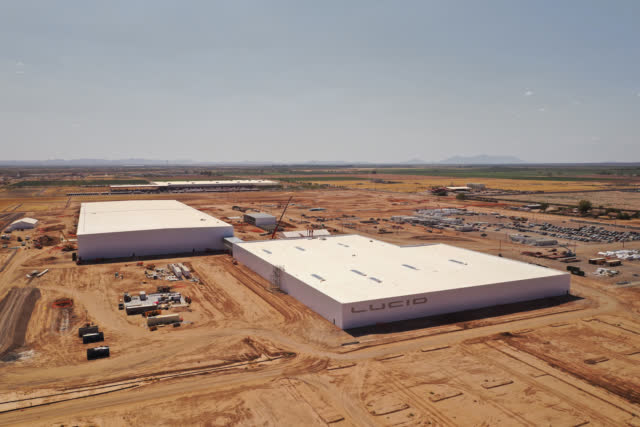 Source
Karma Automotive (private)
Formerly known as Fisker Automotive Inc. since director Henrik Fisker founded it in 2007. New owner Wanxiang Group Corp., bought the carmaker in 2014 and renamed it Karma Automotive. The Company aims to launch a new all-electric sedan, a supercar and plug-in delivery vans. Their focus to date has been on high end luxury EVs.
Karma high end luxury electric cars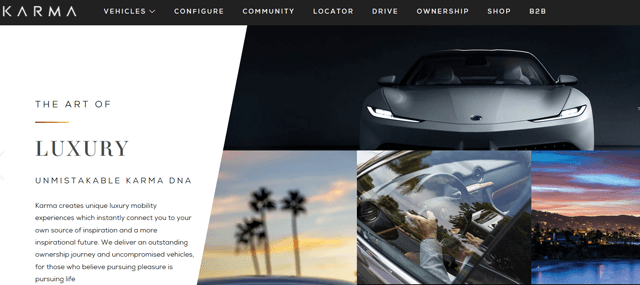 Source: www.karmaautomotive.com
Other small or new EV companies covered already
NIO Inc. (NIO)
Nikola Corporation (NKLA)
ElectraMeccanica Vehicles Corp. (SOLO)
Workhorse Group (WKHS)
Rivian (private)/Amazon (AMZN)/Ford (F)
All of the above were already covered in my recent article:
Risks
EV adoption rates may stall, EV subsidies may decrease, other legislative changes may impact the EV sector, technology change.
Start-ups can fail and mergers can have problems.
Business risks – Management, debt, and currency risks.
The usual stock market risks (liquidity, sentiment etc). Sentiment towards EV start-ups is currently high. Some of the EV stocks discussed in this article have had strong price rises recently. Investors need to be cautious buying stocks after an exponential stock price rise and also assess the risk versus reward ratio.
Further reading
Conclusion
Given the current US-China tensions and the possibility of Chinese stocks being de-listed from US exchanges my preference at this time would be towards the US listed EV companies.
For now I favor Fisker Inc./SPAQ due to their design, strategy, funding and pre-production of Fisker being sold out for the first year (2023). Several risks remain before Fisker reaches production. I also see some potential in Arcimoto due to their low market cap and what should be very popular electric tricycles; but the Company is still at the early stages of sales, so risk remains high. I have always thought the onboard range extender idea was good and therefore see potential with Hyliion and perhaps Li-Auto. Lordstown Motors look well valued if they can sell well and aim to be the first to produce into the large US pickup truck market.
Further ahead we 'may' see some luxury EV IPO's including Xpeng Inc., Karma Automotive, and Lucid Motors.
Risk revolves around gaining market share and profitability in what is becoming a very competitive space. Also current sentiment is very strong so investors need to be careful if overpaying for certain stocks.
Feel free to share your comments below, as usual all comments are welcome.
Trend Investing
Thanks for reading the article. If you want to sign up for Trend Investing for my best investing ideas, latest trends, exclusive CEO interviews, chat room access to me, and to other sophisticated investors. You can benefit from the work I've done, especially in the electric vehicle and EV metals sector. You can learn more by reading "The Trend Investing Difference", "Subscriber Feedback On Trend Investing", or sign up here.
Latest Trend Investing articles:
Disclosure: I am/we are long SPAQ, FUV, TSLA. I wrote this article myself, and it expresses my own opinions. I am not receiving compensation for it (other than from Seeking Alpha). I have no business relationship with any company whose stock is mentioned in this article.
Additional disclosure: The information in this article is general in nature and should not be relied upon as personal financial advice.
Editor's Note: This article discusses one or more securities that do not trade on a major U.S. exchange. Please be aware of the risks associated with these stocks.