The rise in registrations in July of 11.3% was a welcome piece of news after so many months of terrible figures. However, no one is quite sure whether it
merely represents a false dawn.
A lot of sales in that month represented pent-up demand after the COVID-19 lockdown, so the rise may say more about the
past than the future of the car market.
One of the noticeable effects of the crisis has been to accelerate pre-existing trends. Segments faring poorly in 2019 have seen their market share fall even
more steeply YTD (year-to-date). Though falls in absolute registration figures don't mean so much when the whole market is down 41.9%.
The city car segment has seen an unprecedented fall in both market share and the number of models on sale. Share is down from 6.4% to 4.4% YTD, its
lowest figure since the 1990s.
In terms of the cars which customers can choose, there has been something of a bloodbath. Ford (Ka+), Vauxhall (Adam, Viva), Renault (Twingo) and Suzuki
(Celerio) have all left the segment.
Smart is on the way out (at least as a European manufacturer), and the Škoda Citigo and Seat Mii are now only available as effectively limited-edition electric models (although the Citigoe, as it is now called, is not available to order now, as the initial UK allocation sold out in March).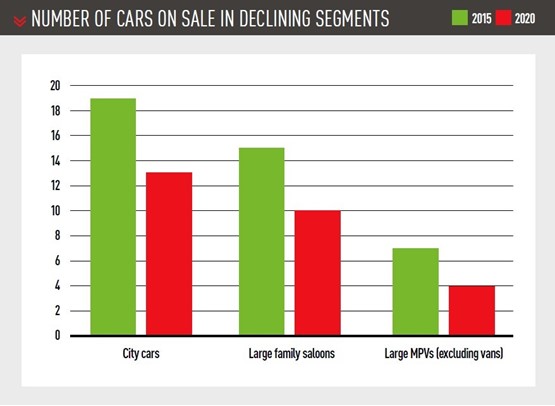 That means the mainstream A-segment consists of just the Toyota Aygo/Peugeot 108/Citroën C1 triplets, the Fiat 500, Fiat Panda, the Hyundai i10, Kia Picanto
and the VW Up.
With the Toyota/PSA joint venture ending soon, and Fiat talking about moving the 500 to the B-segment, there seems no way back for this type of car.
At the other end of the size spectrum, large Multi-Purpose Vehicles (MPVs) are faring even worse, with market share falling from 1.2% to 0.6%. In the medium term, bespoke large MPVs seem doomed, and only passenger versions of vans are likely to survive. Indeed, the only purpose of recoding registrations for this segment will be so the total for
all segments adds up to 100%.
This article first appeared in the September issue of AM magazine, free to view here in digital format.
When MPVs were in their heyday, they were generally built on the platform of a D-segment large family car (e.g. Mondeo/Galaxy), and their large family-car
cousins are faring little better in the current market. Market share is down from 2.0% to 1.2% YTD, and only three models (VW Passat, Škoda Superb and Ford
Mondeo) have sold more than 1,000 examples so far this year.
The latest group to hoist the white flag is Hyundai-Kia, which has dropped the i40 and Optima, leaving just eight manufacturers in the segment (even
including Subaru, which has sold a total of 85 units YTD across Outback and Levorg ranges).
As B-segment superminis and C-segment small family cars have maintained market share, inevitably the biggest winner has been premium/large SUVs,
with market share up from 13.3% to 16.5%.
The notable winners are the Volvo XC40 (up 6.2% YTD), now just a few hundred units behind the Range Rover Evoque, and, in a rare piece of good news for
Jaguar, the I-Pace. The electric Jaguar is currently in a three-way tie for first place in the executive SUV category with the Range Rover Velar and Volvo XC90.
The I-Pace is outselling the Land Rover Discovery, which the JLR product planners did not see coming a few years ago.
The interesting question is whether the new Defender will also outsell the Discovery, which early data suggests is possible. If the Discovery falls behind the
Defender in the Land Rover sales charts, will it survive long term?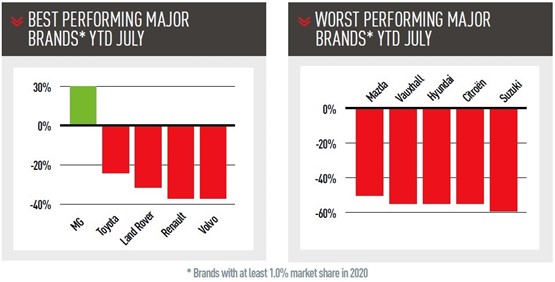 At a manufacturer level, Ford (9.5%) is just managing to hold off VW (9.0%) for the moment. Behind those two are the familiar German trio of BMW, Mercedes-
Benz and Audi, but what is happening behind them is more interesting.
Toyota is slowly consolidating its position in sixth, with a very respectable market share of 6.0%. This is partly due to the new Rav-4, which has increased
registrations by 47.2%.
It has risen from obscurity to become one of the major models in its segment, even outselling the well-established Ford Kuga. 
Behind Toyota is Vauxhall, on just 5.7% share. Normally, a manufacturer whose share almost halves in five years (it was 9.7% in 2015) would be considered a
disastrous failure. However, Vauxhall's situation is more complex, as new owner, PSA, has cut back on the marketing incentives and seems prepared to let
Vauxhall find its own level.
Now all eyes are on the September market, the last chance for manufacturers to make a significant difference to their annual sales.
Traditionally, the two economic factors that really drive the car market are how secure people feel about their jobs and how quickly house prices are
increasing. If people are confident on those two scores, they are happier to commit to a car purchase.
With furlough being wound down, and massive uncertainty about what comes next (a possible no-deal exit from the EU in January), many people will not be
feeling too secure about jobs.
Currently, house prices are pretty stable, but there are plenty of warnings of a potential drop coming soon – for 2021, the Government's Office for Budget
Responsibility is predicting a fall of 3.8% as its "central" forecast, with a best-case of a rise of 4.1% and a worst-case of fall of 11.7%. Meanwhile, the SMMT is
predicting a 30% fall in the UK car market this year to 1.6 million, and a figure of two million in 2021.
A market of two million seems fair as a "central" forecast, but one does not have to add too many factors (e.g. a spike in COVID-19 this coming winter, a
messy separation from the Single Market), to get a number well below that.
One can well imagine what a 10% import tariff would do to new car sales.
By David Francis